The High Wycombe and District Model Railway Society held their 47th annual WYCRAIL exhibition on Saturday 2nd November 2019.
Hundreds of model railway enthusiasts braved the pouring rain to visit the Cressex Community School in High Wycombe to attended the event.
When the doors opened at 10.00am a long queue of enthusiasts was waiting to get into the venue to see the exhibition. It was an extremely popular and well attended event as you would expect from an exhibition that become firmly established as being one of the largest and best supported one day model railway exhibitions in the South East of England.
There were plenty of trade stands to purchase everything from model buildings and modelling supplies to ready to tun locomotives and rolling stock as well as twenty nine fully operational model railway layouts featuring British, American and European layouts.
A vintage AEC Routemaster Bus, from the Amersham and District Motorbus Society, operated a free shuttle service between High Wycombe Railway station and the exhibition venue.
Below is a selection of photographs featuring the layouts on display at WYCRAIL 19 :
Kidmore Fork (H0 Diesel)
The High Wycombe and District Model Railway Society's junior section layout Mothecombe (00 1950's WR/SR)
Belbroughton (0 1950s BR(M) & (W))
Burton Bradstock (EM BR(W) 1950s)
The Ealing Road (00 BR 1960s) layout which featured on The Great Model Railway Challenge on prime time Channel 5 TV.
Haversham Central (N 1960s BR Transition)
Kyle of Lochaish (2mm FS BR Blue)
Lakebank (3mm 1923/30 LMS)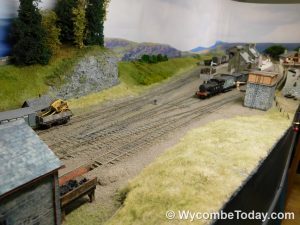 Norge (H0 Diesel / Electric)
Porlock (00 GWR/BR(W))
Sankei Valley (Z 2000's Japan)
Staffordshire Potteries / Barry Scrapyard (N 1923/35 LMS)
Svanda (H0 1980's Norwegian)
Treloar Sidings (0 1950s BR(W))
Trinity Dock Street Bridge (00 LNER 1939)
Vale View (0 1960's Steam)
Whiteleaf Tramway (G Trams)
Whitmoor (N BR Steam / Diesel)
High Wycombe Model Engineering Club
There were plenty of trade stands and exhibitors including a good selection or engines, rolling stock and track from suppliers like ABC Model Railways
As well as some lovely examples of models from Scenic Modelling :
The entrance and main hall was packed with exhibitions :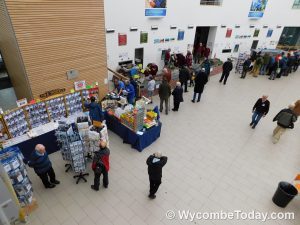 The next Wycrail exhibition will be held on Saturday 7th November 2020.
On Saturday 16th November 2019, from 10.30am to 4.00pm, the High Wycombe and District Model Railway Society will be holding an open day at their new clubrooms in Duke Street, High Wycombe, HP13 6EE.
Further information and details on the High Wycombe and District Model Railway Society can be found on their website at www.hwdmrs.org.uk.
Advertisement (Links to external site) :